Let me begin by giving thanks...
Thank you to all those who responded to my earlier thread regarding advice and input for my first AR purchase. Thank you to those who PM'ed me with even more detailed responses than those I received in the thread. And of course, the
biggest
thanks of all go out to forum member JRTactical for all of his assistance and for being my go-to resource for this purchase and serving as the agent for all my buys.
After I contacted him via PM (he did not solicit me), we spoke via telephone several times and after deciding on going with Daniel Defense and their DD M4v5, he directed me to some places I could source them. I contacted the usual forum sources and was frustrated that they either did not have what I needed in stock or their prices were for the "stock" DD M4v5 and some were hesitant to modify my order. It was then that JRTactical told me he had access to Daniel Defense dealer pricing and offered a quote that was below what I could find anywhere else. He contacted Daniel Defense and was able to procure a rifle custom-built with the parts I designated and configuration I desired and that it would be shipped to my FFL within a few weeks.
I went ahead and purchased the rifle from him as well as a score of accessories, furniture, and range materials...all of which I received at a discount from online pricing and saved even more with the bulk shipping. All payments were handled via PayPal and I can truly say that you can purchase from him with 100% confidence based on my experience. He is certainly GTG (Good to Go)!
As for the rifle, here are the specs for those interested:
Daniel Defense DD M4v5 16" Midlength Rifle
DD AR-Lite 10" Rail System
Battlecomp 1.0
Magpul AFG
Magpul XTM Rail Panels
Magpul B.A.D Lever
Magpul Gen 2 BUIS (front + rear)
Magpul MIAD Grip
Magpul ASAP Plate
Magpul ACS Stock
On to the good stuff: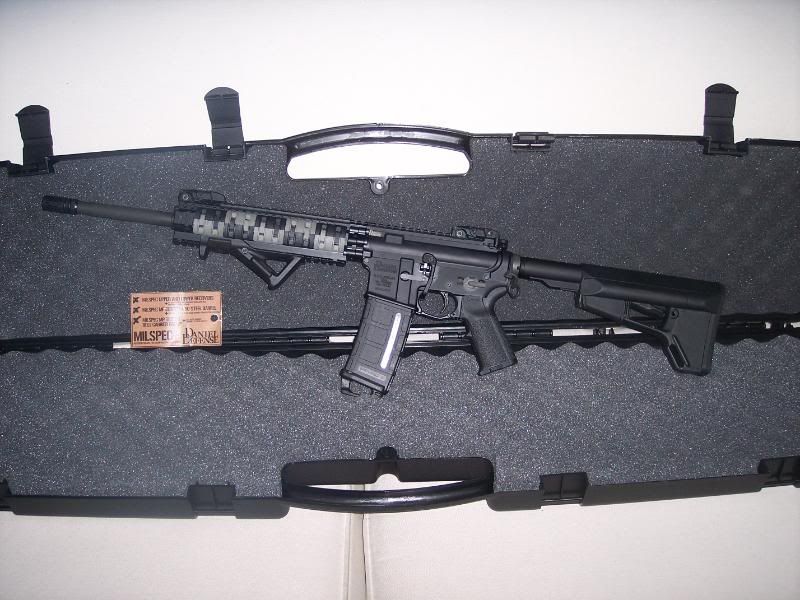 VooDoo Tactical 42" Soft Double-Rifle Case:
Modded the case by removing one side of the foam backing from the standard rifle case and cut it to fit within the rear compartment of the soft case. It came out perfectly and adds some extra protection to the rifle while it rests securely in the front compartment:
I'll get up some of those money High Definition shots for the various picture threads when I have time and get some range time in with my new baby but here's one to kick things off:
On a final note, here's a small anecdote I found pretty cool. I had JRT order the rifle without the standard Magpul CTR stock that comes with the rifle. I knew I was going to be adding a Magpul ACS stock right away and didn't want to incur the added expense nor deal with trying to sell it on the Equipment Exchange or eBay. So when I received the rifle, I opened it expecting to see a bare buffer tube. To my small surprise, it had a stock on it. I called Daniel Defense to make sure I had received the correct rifle as I knew I had ordered it sans stock. The rep at DD said that he remembered my order and that yes, it was the correct, custom rifle. They included the stock because...in his words..."there's no way we're shipping out a Daniel Defense rifle that isn't ready to fire right out-of-the-box." He explained further that they wanted every customer to be able to enjoy their rifle as soon as they picked it up. What if my ACS wasn't ready or hadn't arrived? What if the FFL that I picked it up at had a range and I wanted to test it out right away? How could I do that with no stock? I know it's no huge deal but I thought it demonstrated DD's commitment to customer service and the customer's experience to want to make sure every DD customer is pleased with their investment.
Big
thumbs up to DD from me!